Latest news
Thom Hell+Jim Stärk
30.oktober deler vi scene med Thom Hell i anledning John Dee 15 år.
(Posted 11.09.2012)
Gamle Ormelet
I sommer går turen tilbake til Gamle Ormelet på Tjøme. Gleder oss til å spille der igjen! Billetter finner du her
(Posted 13.05.2012)
Musikkplaster//Støttekonsert for kreftsaken
En rekke av landets fremste musikere og artister går sammen for å støtte en god venn og kollega som på grunn av sykdom i nær familie virkelig har behov for det.
Rockefeller torsdag 09.02.2012 kl 20.00
(Posted 08.02.2012)
Happy New Year!
Thanks to all fans who came to our shows and bought our albums in 2011! Check out new live dates for 2012, hope to see you around!
(Posted 02.01.2012)
Romjul på Last Train!
Vi spiller på Last Train i kveld. Billetter til 100,- i døra fra kl 2100. Einar Stokke Fadnes, Inge Sørbrøden, Trond Mjøen og Erland Dahlen på scenen. Anders Aasebøe a.k.a. Paven er med på lyd, og DJ Julie Forchhammer spiller plater.
Romjul på Last Train 2011, del 2: Jim Stärk 100,-
(Posted 27.12.2011)
Einar på norsk!
Einar spiller en låt i anledning feiring av Knutsen og Ludvigsen-plata "Juba Juba" på Kampen Bistro ikveld. I morgen er det feiring av DeLillos-plata "Suser Avgårde" på Cosmopolite. Begivenhetsrik uke på norsk!
(Posted 16.11.2011)
Support Tromsø
Peter Estdahl spiller support for oss på Verkstedet i Tromsø neste lørdag. Vi gleder oss!
(Posted 16.11.2011)
Biography
In a neighbourhood outside Oslo, Einar Stokke Fadnes and Inge Sørbrøden met through their strong interest for music. Many years later they started a band and named it after a common hero - James Deans character Jimmy Stark in the classical 50's movie "Rebel Without A Cause".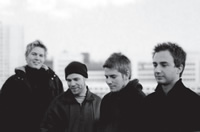 After bringing in a drummer and a keyboard player, we spent most of our time in the combined rehearsals and recording studio Supermono. The studio manager, Kjetil Draugedalen, invited us to record a few tracks in his studio. During the fall of 2001 and spring 2002 the tracks grew into an album and "Ten Songs And Hey Hey" was ready for its release in October 2002. This was the very beginning of a beautiful adventure as the debut album got nominated both at the Norwegian Grammy and the Alarm Awards Inge recalls.

In the summer of 2003 Jim Stärk left Supermono in Oslo and took off to a farm at the countryside in the southern part of Norway. Here the second album found its shape. "No Time Wasted" sounds intimate and close, recorded live in an old wooden house.

We continued to refine what we did on our first record: strong, understated, emotionally rich and integral songs. It feels like we always have the ability to hold back and take our time, Einar says.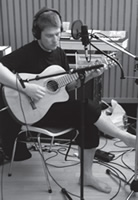 "No Time Wasted" was produced by Kjetil Draugedalen and released in October 2003. By then the band had started their own label, Sweet Recordings. The album was well achieved, and entered # 21 at the album chart.
By the end of April 2004, Jim Stärk released their breakthrough EP "Morning Songs". "Morning Song" got rotation on all national radio stations, and became the summerhit of 2004. The EP also included a version of Townes Van Zandts "Like A Summer Thursday", from his album "Our Mother The Mountain" (1969). Receiving excellent reviews, "Morning Songs" went straight to #1 at the sales chart. "Morning Songs EP" sold platinum – making it the most selling EP in Norway of all times.

In December 2004 Jim Stärk decided to record their third album in an old castle outside Prague. The next radio hit single "The Word That Makes You Sing" was released early 2005 and at the same time Jim Stärk won the highly acclaimed Alarm-Award. The album "Jim Stärk" debuted as # 2 in the sales chart. Jim Stärk sold platinum and had three national tours,at festivals and clubs,in most parts of Norway. Early 2006 Jim Stärk started touring in the rest of Scandinavia.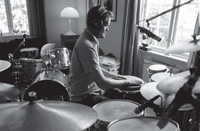 After having played 120 gigs in 2005 we took off to Brazil. We needed a rest and new perspectives. We also decided to record a few songs in AR Studios, Rio de Janeiro. The studio where Joao Gilberto and Caetano Veloso, among others, have recorded legendary albums. An incredible experience! - Tom laughs as he talks about the "warming up" on Ipanema before every studio session.
One of the Rio-tracks,"It's All Right", was released in June 2006 and became a big hit in Norway.
Jim Stärk spent the rest of the summer in Athletic Sound Studio in Halden, Norway, finishing the album. "Turn Around and Look" was released in october 2006. Tom continues;We tried out all different kinds of stuff in Athletic Sound Studio .The songs were written along the way and it was, in many ways, an unpredictable, fun, challenging and most of all, hard working session. The two very gifted guitarists, Trond Mjøen and Tommy Kristiansen also contributed on the album.
After the release of "Turn Around and Look" the band took on a tour. The Norwegian artist Magnus Hængsle and the Swedish soulman Magnus Tingsek joined as supporting acts. After the tour they had a well deserved two months off.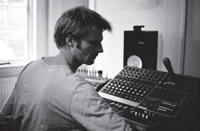 We learned a lot in this progress, Einar says, and continues; "Turn Around and Look" wasn´t the same commercial success as the earlier albums, but we continued touring and doing great liveshows. After a struggle in the studio it´s important to convience yourself and the audience that you are still on the top.We did some of our greatest concerts ever!
During the spring of 2007 Jim Stärk got in touch with some of the greatest jazz and pop musicians they knew of. This resulted in a nine piece big band, ready for summer festivals. Percussion, keyboards, saxophone, trumpet, trombone and electric guitar joined them on stage.
The band will take a live-break for the rest of 2007. They have already started writing material for the next release in 2008. Einar will go back to Brazil for four months to write new songs.

Jim Stärk is
Einar Stokke Fadnes, vocals & guitar
Inge Sørbrøden, bass
Tom Rudi Torjussen, drums
Albums
Ten Songs And Hey Hey (BP – 2002/Sweet Recordings 2003)
No Time Wasted (Sweet Recordings – 2003)
Morning Songs EP(Sweet Recordings – 2004)
Jim Stärk (Sweet Recordings – 2005)
Turn Around and Look (Sweet Recordings-2006)

Concerts
| | | | | | |
| --- | --- | --- | --- | --- | --- |
| 30.07.2016 | Øykjelykkjesetra | Vinstra | | | |
| | | | | | |
| --- | --- | --- | --- | --- | --- |
| 15.07.2016 | Sudio Spornes | Tromøy | | | |
| | | | | | |
| --- | --- | --- | --- | --- | --- |
| 25.11.2015 | Kampen Bistro | Oslo | | | |
| | | | | | |
| --- | --- | --- | --- | --- | --- |
| 15.07.2015 | Studio Spornes | Tromøy | | | |
| | | | | | |
| --- | --- | --- | --- | --- | --- |
| 29.05.2015 | Kampendagene | Oslo | | | |
| | | | | | |
| --- | --- | --- | --- | --- | --- |
| 09.01.2015 | Rockefeller | Oslo | | | |
| | | | | | |
| --- | --- | --- | --- | --- | --- |
| 26.09.2014 | Bonanza 5 år | Oslo | | | |
| | | | | | |
| --- | --- | --- | --- | --- | --- |
| 13.07.2012 | Gamle Ormelet | Tjøme | | | |
| | | | | | |
| --- | --- | --- | --- | --- | --- |
| 04.05.2012 | På hjørnet | Nesbyen | | | |
| | | | | | |
| --- | --- | --- | --- | --- | --- |
| 28.04.2012 | Energimølla | Kongsberg | | | |
| | | | | | |
| --- | --- | --- | --- | --- | --- |
| 27.04.2012 | St. Croix | Fredrikstad | | | |
| | | | | | |
| --- | --- | --- | --- | --- | --- |
| 11.02.2012 | Bodø kulturhus | Bodø | | | |
| | | | | | |
| --- | --- | --- | --- | --- | --- |
| 09.02.2012 | Rockefeller | Oslo | | | |
| | | | | | |
| --- | --- | --- | --- | --- | --- |
| 27.12.2011 | Last Train | Oslo | | | |
| | | | | | |
| --- | --- | --- | --- | --- | --- |
| 02.12.2011 | Flytten | Haugesund | | | |
| | | | | | |
| --- | --- | --- | --- | --- | --- |
| 26.11.2011 | Kulturhuset | Tromsø | | | |
| | | | | | |
| --- | --- | --- | --- | --- | --- |
| 12.11.2011 | Iris Scene | Odda | | | |
| | | | | | |
| --- | --- | --- | --- | --- | --- |
| 11.11.2011 | Checkpoint Charlie | Stavanger | | | |
| | | | | | |
| --- | --- | --- | --- | --- | --- |
| 10.11.2011 | Madam Felle | Bergen | | | |
| | | | | | |
| --- | --- | --- | --- | --- | --- |
| 27.10.2011 | Parkteateret | Oslo | | | |
| | | | | | |
| --- | --- | --- | --- | --- | --- |
| 06.10.2011 | Familien | Trondheim | | | |
| | | | | | |
| --- | --- | --- | --- | --- | --- |
| 01.10.2011 | Big Dipper | Oslo | | | |
| | | | | | |
| --- | --- | --- | --- | --- | --- |
| 10.06.2011 | Norwegian Wood | Oslo | | | |
| | | | | | |
| --- | --- | --- | --- | --- | --- |
| 28.04.2011 | Bergenfest | Bergen | | | |